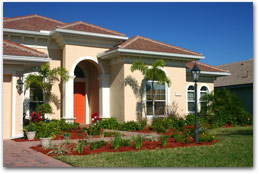 A home inspection is an in-person objective evaluation of the physical structure and systems of a home, and a functional check of all its major systems and appliances.
A home is the biggest investment most people make in their lifetimes. Since there can be serious flaws even in homes that appear to be in beautiful condition, setting up a professional home inspection will save you money, educate you about your home, and provide you some much-needed peace of mind.
If you're buying a home, getting a home inspection means you know about any problems and their solutions before you move in.
If you're selling a home, getting a home inspection means you know you're complying with full disclosure laws, and means you can consider selecting contractors rather than waiting for the buyer to do so.
If you've just done extensive remodeling, a home inspection can help you make certain the contractors did the job correctly.
A home can't fail an inspection, but its systems and structures just might. A professional home inspection means you have an independent opinion about the problems and their solutions, and so you have exactly what you need to make the final decision for your purchase.
What is Included in a Home Inspection?
To be honest, too many items to enumerate… But, the list below will give you a general idea of what is included in our home inspections:
We Protect Your Home By Our Comprehensive Fifteen Point Inspection (15 Point Inspection):
Air Conditioning/Heating
Appliances
Doors/Windows
Electrical
Insulation/Ventilation
Plumbing
Pool
Roof
Sprinkler System
Structural
Termite/Wood Destroying Organisms
 At the close of the comprehensive home inspection, you will know the results & repair budget pricing – no waiting! All to benefit a smooth closing. A final typed version can be emailed and or faxed the next business day.
 Our Additional Services Include:

Mold – Toxic Screens & Environmental Testing
Termite & Wood Destroying Organism Inspections

4 Point Insurance Inspections
Wind Mitigation Insurance Inspections
Roof Certification Insurance Inspections

Water Quality Testing
Commercial Inspections
We also provide detailed commercial property inspections:
Multifamily Investments
Industrial/Business Properties
Foreclosure Properties
Seawall Inspection, Dock Inspection
Marc A. Goldenberg
State Licensed Home Inspector #HI1365
State Licensed Mold Assessor #MRSA1573
State Licensed Termite/Pest Control Contractor #2446
Other Property Inspection Types
Home Inspections and commmercial building inspections: Boca Raton, Coconut Creek, Deerfield Beach, Parkland, Coral Springs, Pompano Beach, Lake Worth, Tamarac, Delray Beach, Boynton Beach, Margate, Fort Lauderdale, West Palm Beach, Wellington, Greenacres and surrounding areas of Florida